Add Users, Passengers, Flights
The Blink Travel API allows developers add a new user, add passengers for that user and to 'Blink' a flight. The API is designed to allow developers easily integrate and add the Blink functionality to their own websites and/or apps.
The step by step guide below shows how to create a new user in the Blink platform, add flights and trips for the user.
Use the following steps to get started :
Before using the API, you must first login to retrieve an Admin Access Token.
These credentials are supplied by the Blink Team and must be passed in the body of the call.

If the credentials are correct an access token will be returned in the response.  The access token will be required for subsequent calls to the API so it must be stored for later use.

Create a new user (you must pass the access token in the Authorization header)
If your users will have their own user and password to access the blink services use the Register call

OR, If your application will manage the user's access (your users will NOT have a user and password) then use the create call below (note: password is not included in the body)

A sample expected response is below: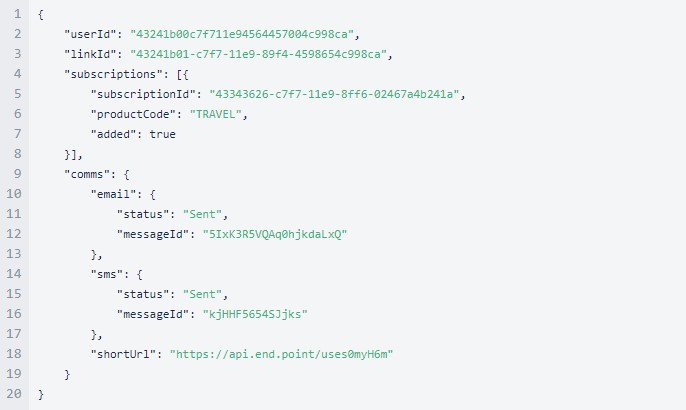 Add a passenger to the user's account.
This passenger may be the main account holder or another person that is entitled to service.


This payout method can be used to transfer funds to the passenger if their flight is disrupted


This call will commence monitoring of the flight and will notify the user if the flight is disrupted